Stony Plain Eagles Announce Playoff Schedule
---
---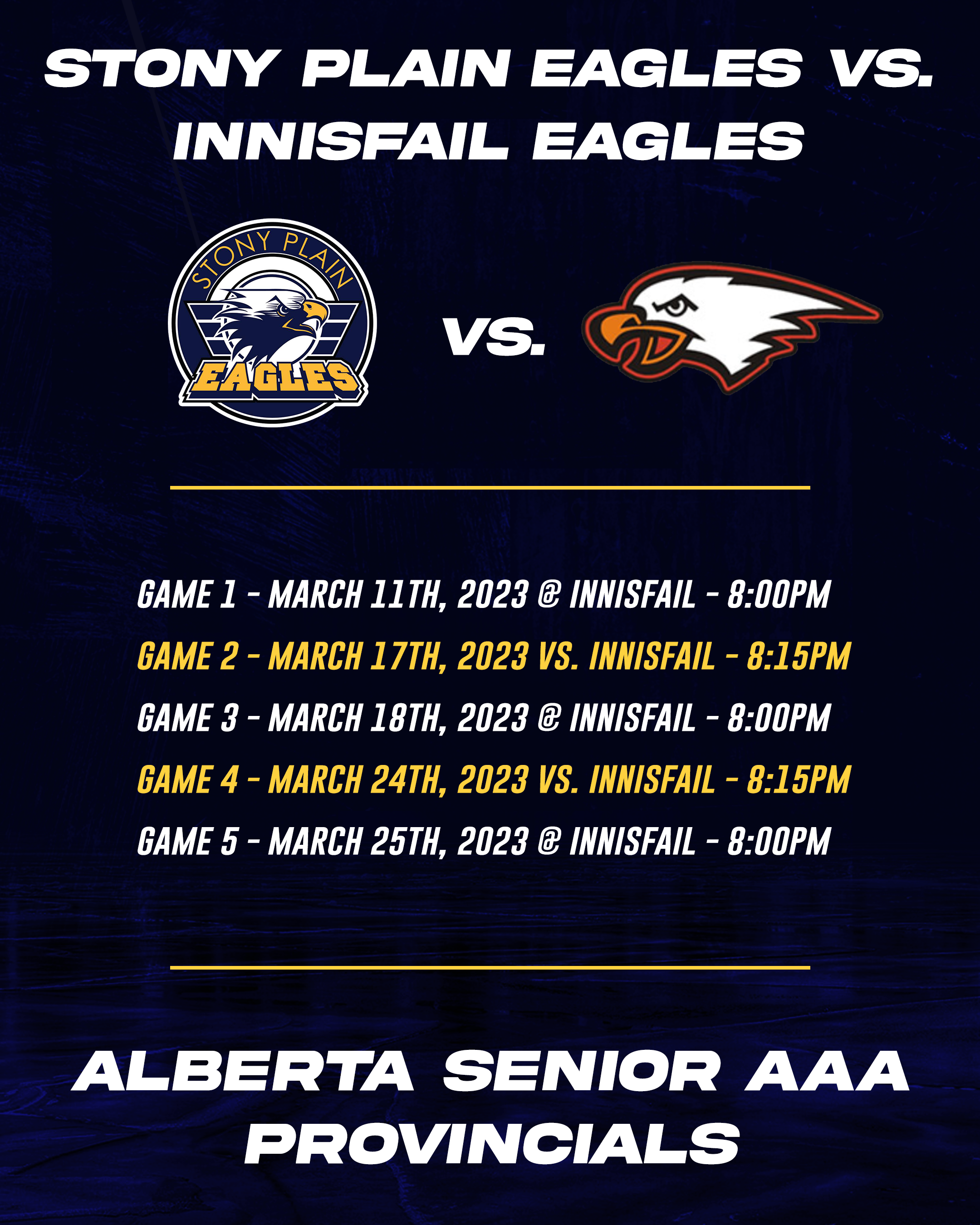 ---
The Stony Plain Eagles and their southern rivals from Innisfail have finalized the schedule for the upcoming provincial play downs. The winner of the 7-game series will earn a direct berth to the compete in the Allan Cup, Canada's oldest amateur hockey championship, located in Hamilton and Dundas Ontario, April 6th to 11th.
After winning the season series, Innisfail has secured home ice and will host Game 1 of the provincial play downs beginning Saturday February 22nd at 7 pm. The series will flip back and forth over the course of 6 weeks between the Twin Arena's in Innisfail and the famous Glenn Hall Arena in Stony Plain.
Circle the dates on your calendar and come out and enjoy what is sure to be exciting, old school playoff hockey and cheer on the guys as the Eagles look to eliminate Innisfail and punch their ticket to the Allan Cup for the first time since 2013.
Full Schedule:
Game 1 - Innisfail - Saturday, Feb 22nd @ 7 pm
Game 2 - Stony Plain - Saturday, Feb 29th @ 7:30pm
Game 3 - Innisfail - Saturday, March 7th @ 7 pm
Game 4 - Stony Plain - Saturday, March 14th @ 7:30pm
Game 5 - Innisfail - Saturday, March 21st @ 7 pm
Game 6 - Stony Plain - Friday, March 27th @ 8:45pm
Game 7 - Innisfail - Saturday, March 28th @ 7 pm